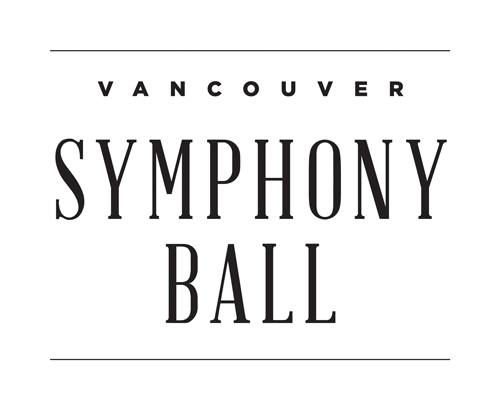 The Vancouver Symphony Ball is the VSO's signature annual fundraising gala and widely considered to be the premier social event of the season in Vancouver. This year the 26th Annual event will be held on January 21, 2016 at the Vancouver Convention Centre West.
Fine food and wine abound and the entire Vancouver Symphony Orchestra is front and centre for the guests listening and dancing enjoyment—a truly remarkable and unique experience. Vancouver's philanthropic community has significantly supported this event and last year helped to celebrate the 25th Anniversary of the Symphony Ball bringing the grand total of funds raised to over $10million. Funds raised at the Ball are used to support the annual activities of the VSO from presenting 150 passionate, high-quality concerts each year to delivering 13 inspirational education programs that reach more than 50,000 children annually. Now that's something you can be very proud to be a part of—helping to enrich and transform lives through music.
To purchase tickets or for further information on the Symphony Ball, please click here for the website symphonyball.vancouversymphony.ca or call us at 604.684.9100 ext 404.
How do I choose a wine to donate?
1. Click on the heading of the group that your chosen wine appears in.
2. Click on "Choose Options" for the wine you would like to purchase.
3. Add the wines that you would like to donate to your online shopping cart.
4. At checkout, use code "VSO" to indicate it is a donation, or indicate "VSO" in your order comments.
5. Under "Shipping Method" select "Collect in-store"
6. That's it! We'll take care of the rest.
Marquis Wine Cellars will consolidate all the orders for VSO, so you are not required to pick up the wine from the store.
If you would like to talk with us directly to make your purchase, please contact leah@marquis-wines.com.

---
Suggested Wine Donation List
Champagne & the Best Bubble from around the World | Large Format | Bordeaux | Burgundy | Old World Other | The World's Top White Wines | Pacific Northwest & California | Sweet and Fortified
---